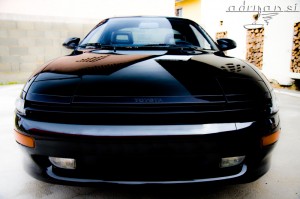 Vit's car!
Unfortunately he is selling it and this was probably the last photo shoot.
A few facts about this model:
"The fifth generation Celica was introduced in September 1989 for the 1990 model year. Toyota engineers claimed that the round styling and lack of straight edges increased strength without adding weight. The styling was later copied by other manufacturers. In August 1991 for 1992 model year Toyota facelifted the Celica and included some changes."
Source: http://en.wikipedia.org/wiki/Toyota_Celica
For more pictures click on the link BELOW!!!!!
Bimmer_E30
Ps: Vit, več slike te čaka pri meni.